View our video on how to retrieve usernames or follow the instructions that follow:
In order for EHS Client Administrators to get a list of their employees' user names, they will need to take the following steps:
1. Log into Vera Suite at www.verasuite.com
2. Navigate to Reports and EHS Reports

3. In the All Reports section, find Active Employee List and choose the DOWNLOAD link:

4. Open the downloaded Excel report - the downloaded file will be named ActiveEmployeeList.xls
5. Once open scroll to Column A that is labeled as Username: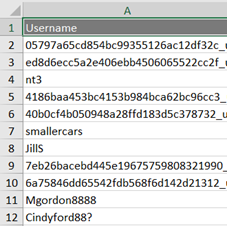 This will list the user names for all employees.
Note:
If you see a string of numbers and letters, this indicates that user has not registered. Administrators will want to send them a registration link to complete their registration.