Creating an Inspection
Your organization can use Vera EHS or Vera F&I to configure your own inspections. You can also assign them to specific locations or individuals for completion.
Who can do this?
Vera EHS/F&I Administrators
Instructions
Click on the down arrow next to Inspections. Select Templates.
Select Add New Template.
To begin building your inspection template, enter an Inspection Title and Inspection Description.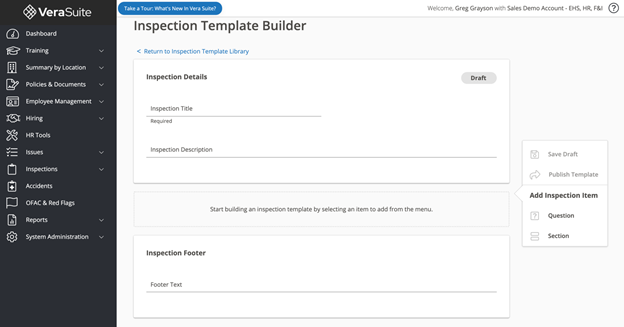 Use the menu items on the right to add Questions or Section
Set up each question, using Yes/No or Multiple Choice Response Choices. Save Item.
As a best practice, select Save Draft as you're creating your inspection.
If desired, add Footer Text under Inspection Footer. This will help remind employees what inspection they are taking.
When you're finished, select Publish Template.