Batch Send Registration
You can send a mass or bulk registration e-mail to unregistered users at your location or across your group. In order to do so, take the following steps:
Click the down arrow next to Employee Management
Click the Manage Employees option
Notice the button on the left of the Employee Management screen
Hitting the button will provide the number of employees that will receive a registration invite in a new screen: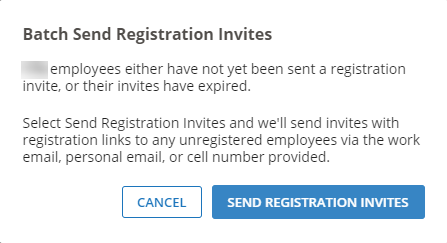 You can either hit

to skip this action or hit

to send the batch of registration e-mails out to your employees.
IMPORTANT NOTES:
Batch Send Registration can only be used once within a 48-hour period in order to prevent the accidental and repeated use of the option. This will also help prevent issues with the delivery of the registration e-mails to employees. If the Batch Send Registration button does not appear, that is because the option has been used within the 48-hour period. If you add a new employee, the button will appear again. We do recommend only using the Batch Send Registration once you have added all new employees.
If the user who utilizes the Batch Send Registration option is a member of an Access List (i.e. tied to multiple locations) all unregistered users at ALL of those locations would receive a registration invite. That means if the user is a member of an All Access List, they would send to all unregistered employees across the entire group.